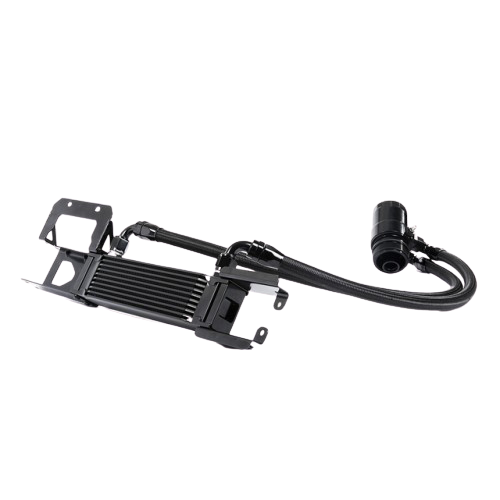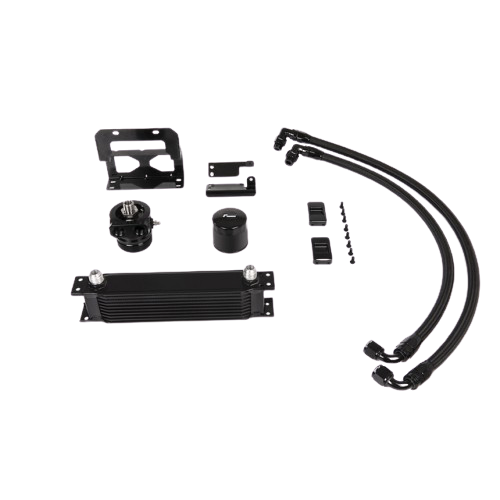 Racingline Oil Cooler System 2.0 TSI EA888 Gen.3 Engines
VWR Racingline MQB VW Golf 'R'/GTI & Cupra Oil Cooler
Racingline's Oil Cooler kit is a complete ready to install package.  An essential for any hard-driven Golf Mk7 GTI or 'R' running high power levels, hot climates or on the track.
Of course, adding power generates more heat to disperse. Significantly increased oil temperatures mean only one thing: a decrease in the ability for your engine to stay properly lubricated.
The new Racingline kit solves this problem: by adding in an additional air to oil cooler positioned right in the airflow in front of the car, oil temperatures are reduced by around 15-20ºc (of course this varies dependent on factors such as how the car is being driven, ambient temperatures and state of tune).
Unlike many oil cooler kits, this keeps the factory Oil to Water cooler in position – effectively doubling up on your cooling. As oil passes through the new cooler first, that means less heat transfer back into your car's water coolant circuit too.
What's in the kit? 
– Oil Cooler mounting brackets
– AN10 '210 Series' Nylon braided feed and return lines
– Billet CNC oil cooler sandwich plate
– AN10 '10-Row' Oil Cooler Core
– Billet oil filter housing with removable drop in filter
– Fitting kit consisting of all necessary nuts, bolts, washers and rubber mountings
Notes: 
– Pre-2016 Cars will require a 2016+ Oil Filter Stem (06L115678Q)
CONFIRMED APPLICATIONS
VW Golf 8 GTI 2020+
VW Golf 8 GTI Clubsport 2020+
VW Golf 8 R 2020+
VW Golf 7 & 7.5 GTI & Clubsport
2013-2020
VW Golf 7 & 7.5 R 2013-2020
VW Golf 7 & 7.5 1.8 TSI 2013-2020
VW Passat 2.0 TSI B8 2015+
VW Arteon 2.0 TSI 2017+

VW T-Roc R 2.0 TSI 2019+

VW Tiguan II 2.0 TSI 2016+

VW Jetta VII GLI 2018+

Audi S3 8Y 2020+

Audi A3 2.0 TSI 8Y 2020+
Audi S3 8V 2013-2020
Audi A3 2.0 TSI / 1.8 TSI 8V 2013-2020
Audi TT 3 2.0 TSI 8S 2014+
Audi TTS 3 2.0 TSI 8S2015+
Audi SQ2 2018+

Cupra Leon IV FW 2020+

SEAT Leon III Cupra 5F 2014-2020
SEAT Leon III 1.8 TSI 5F 2014-2020
Cupra Ateca 2018+

Cupra Formentor 2020+
Skoda Octavia IV vRS 2.0 TSI 245ps NX 2020+

Skoda Octavia III vRS 2.0 TSI 5E 2014-2020
Skoda Superb III 1.8 / 2.0 TSI 3V 2015+