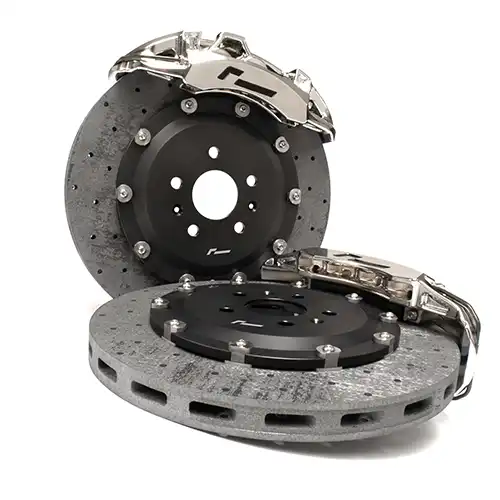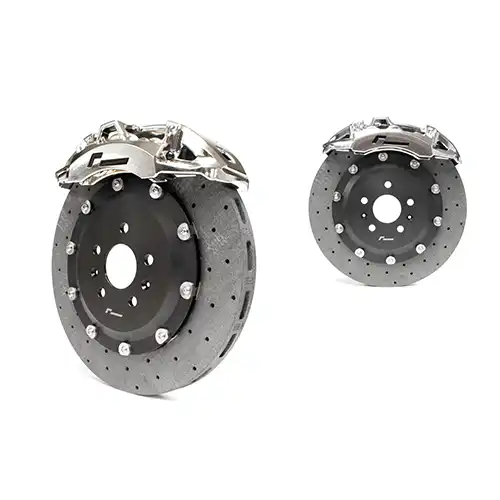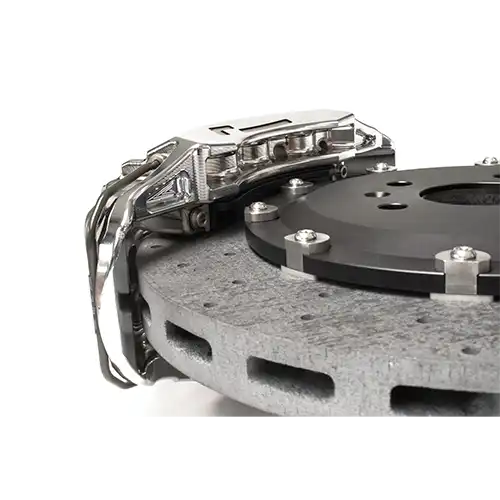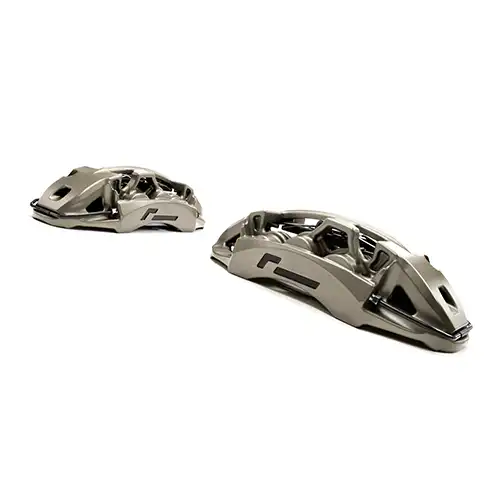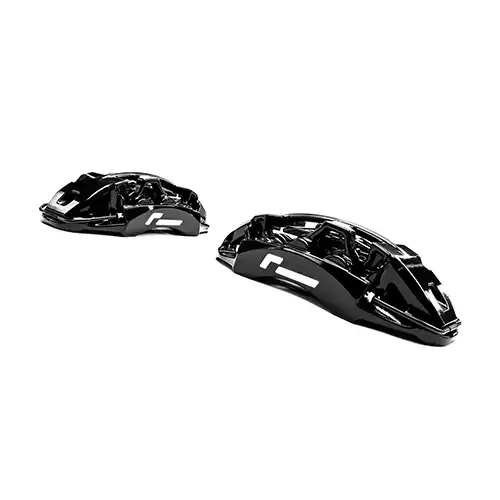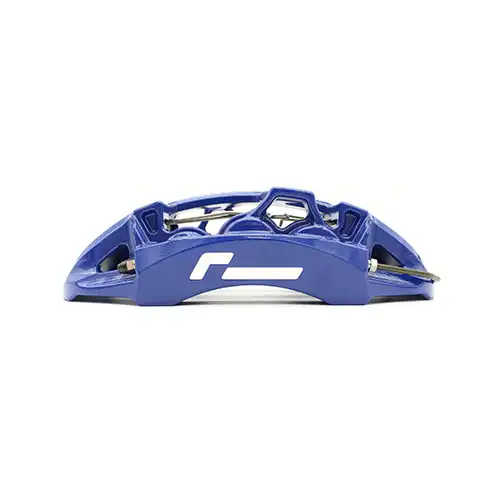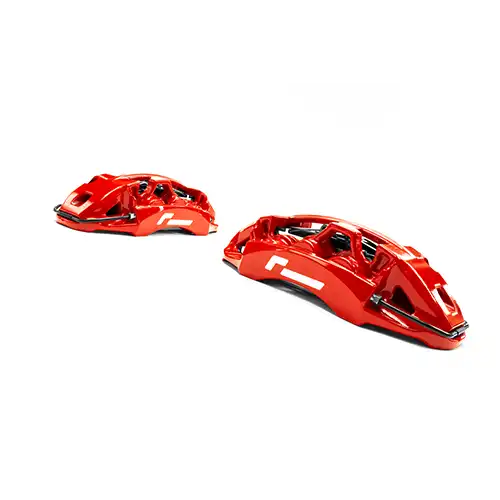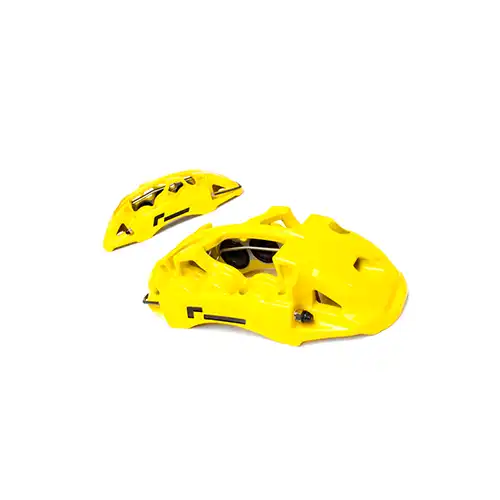 Stage 3+ Monoblock Carbon Ceramic Big Brake Kit – 380mm - MQB
Carbon-Ceramic Big Brake Kit by Racingline
Not only is each disc close to half the weight of the factory rotor, the kit is packed with motorsport-inspired features including our forged Stage 3 monoblock calipers and matched ceramic pad compound. The 380mm rotor construction interweaves discontinuous carbon fibre to form a 3D multi-directional matrix. This gives significant benefits even over traditional carbon-ceramic products. Simply astonishing stopping performance, again and again and again.
Technical details
With triple the heat capacity of steel brakes, the repeatability of the stopping power is exceptional, and unlike any steel rotor brake kit can deliver
Despite this performance, our Stage 3+ Carbon Kit is perfect for daily usage, with good pedal response from cold
The CCM discs weigh in at nearly half the mass of the (much smaller) factory cast iron ones. Each carbon disc weighs 5.7kg (12.6lb) vs 10.4kg (22.9lb) for the factory Golf 7R / S3 disc
The lightweight Forged Monoblock calipers are the same as our beautiful Stage 3 kit – using a one-piece construction that starts out from an ultra-strong forged bille
What do you get?
Monoblock Brake Caliper pair
Caliper Mounting Bracket pair
Full bolt mounting kit
Braided Steel Brake Line Set
Fast-Road Brake Pad Set
Carbon Ceramic 2-piece brake disc pair
Confirmed Applications
380mm kit: Minimum 19″ wheel diameter required​.
Our Hub Adaptors recommended for use with factory wheels.
380mm VWR651000 RED/BLK/ANO/CHR
VW Golf 8 GTI 2020+
VW Golf 8 R 2020+
VW Golf 8 2020+
VW Golf 7 & 7.5 GTI & Clubsport 2013-2020
VW Golf 7 & 7.5 R 2013-2020
VW Golf 7 & 7.5 2013-2020
VW Passat 2.0 TSI B8 2015+
VW Arteon 2.0 TSI 2017+
VW T-Roc R 2.0 TSI 2019+
VW Tiguan II 2.0 TSI 2016+
VW Jetta VII GLI 2019+
Audi S3 8Y 2020+
Audi A3 8Y 2020+
Audi S3 8V 2013-2020
Audi A3 8V 2013-2020
Audi RS3 2.5 TSI 8V evo 2017-2020
Audi TT 3 2.0 TSI 8S 2014+
Audi TTS 3 2.0 TSI 8S 2015+
Audi TTRS 3 2.5 TSI 8S 2017+
Audi SQ2 2018+
Audi RSQ3 F3 2019+
SEAT Leon IV Cupra FW 2020+
SEAT Leon III Cupra 5F 2014-2020
SEAT Leon III 5F 2015-2020
SEAT Ateca Cupra 2018+
SEAT Tarraco 2.0 TSI 2018+
Skoda Octavia III vRS 2.0 TSI 5E 2014-2020
Skoda Superb III 1.8 / 2.0 TSI 3V 2015-2020
Notes
– Factory 19″ wheels and other brands may require spacers
– Racingline and Revo 19″ wheels will not require Spacers
Fitment of the Stage 3+ brake kit on 2.5 TFSI RS3 Sportback/Saloon or TTRS, requires shims between the bearing housing/upright and caliper mounting bracket to centralise the disc between the pad surfaces – failure to do so will cause caliper and rotor damage. Please check with your dealer before fitment.