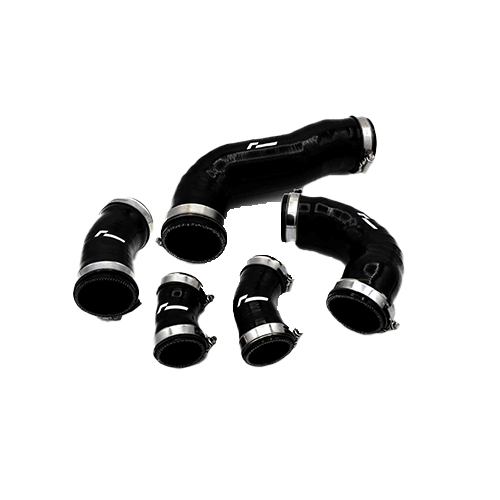 Racingline Silicone Boost Hose Kit for MQB EA888 Gen.3
Racingline Silicone Boost Hose Kit for MQB EA888 Gen.3 – VWR140004
The RacingLine Boost Hose package replaces the original rubber charge pipes with beautiful smooth-flowing silicone replacements, uniquely reinforced with internal wiring for guaranteed stiffness under the demands of high heat and boost levels.
The kit is a direct OEM replacement: simply remove the old weak, flexible rubber hoses and replace them with our five-piece kit. Simple.
Stepped internal joint transitions give a port-matched laminar airflow path, greatly reducing turbulence versus other non-stepped designs.  Of course our kit is pressure tested far beyond the turbo's capabilities, the system maintains performance under extreme temperature and high-boost conditions.
By minimising these restrictions, the smoother airflow and optimised hose routing ensures that the turbo meets less resistance and can thus perform more effectively – moving a larger volume of air and minimising turbulence.

The RacingLine Boost Hose Kit is probably the only one on the market which comes with five hoses included – although you will only need to fit four of them.
The choice of which Turbo Outlet Pipe (bottom) depends whether the car is pre- or post-2017. It's really easy to choose which to use:  it's either long or short depending on what OEM pipe is removed, meaning that (unlike other kits) you can't really get this wrong! 
Designed to work in perfect harmony with the Racingline MQB Intercooler
Compatibility
> VW Golf 7 & 7.5 GTI & Clubsport 2013-2020
> VW Golf 7 & 7.5 R 2013-2020
> VW Golf 7 & 7.5 1.8 TSI 2013-2020
> VW Passat 2.0 TSI B8 2015+
> VW Arteon 2.0 TSI 2017+
> VW T-Roc R 2.0 TSI 2019+
> VW Tiguan II 2.0 TSI 2016+
> VW Jetta VII GLI 2019+
> Audi S3 8V 2013-2020
> Audi A3 2.0 TSI / 1.8 TSI 8V 2013-2020
> Audi TT 3 2.0 TSI 8S 2014+
> Audi TTS 3 2.0 TSI 8S 2015+
> Audi SQ2 2018+
> SEAT Leon III Cupra 5F 2014-2020
> SEAT Leon III 1.8 TSI 5F 2014-2020
> SEAT Ateca Cupra 2018+
> Skoda Octavia III vRS 2.0 TSI 5E 2014-2020
> Skoda Superb III 1.8 / 2.0 TSI 3V 2015-2020