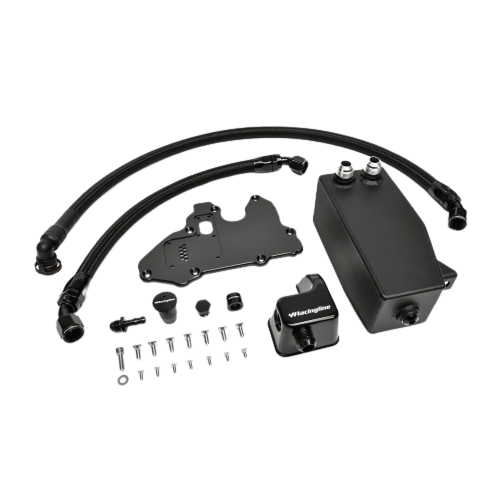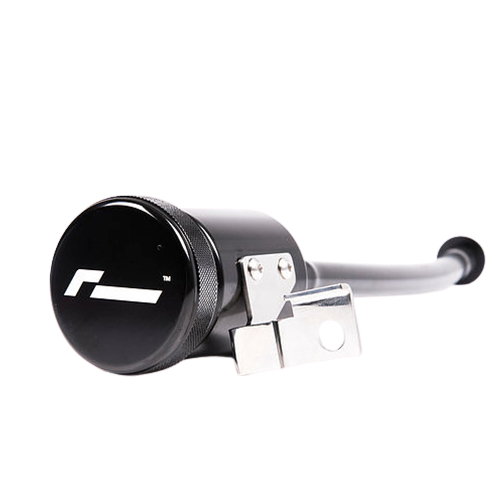 Racingline Oil Management System (Catch Can) 2.0TSI EA888 Gen.3
Racingline Oil Management System for MQB 2.0TSI EA888 Gen.3
The Racingline Performance Oil Catch Tank & Oil Management System is the ultimate oil separating catch can system for MQB EA888 Gen3 2.0T engine cars.
Not all catch cans are created equal. The Racingline Performance system has a dual function: as well as routing undesirable oil and moisture vapours through a sophisticated system of internal baffles and a fully baffled catch can, the Racingline Performance Oil Catch Can System also takes our track & motorsport experience of these engines to correct the problem of oil build-up in the top of the engine during high-G braking. The kit includes our Engine Breather Plate – just as the Golf and SEAT TCR EA888 touring cars use to avoid the oil surge issue.
So not only does the Racingline Peformance Oil Management System condense these vapours into the bottom of the tank, keeping a purer air/fuel mixture and avoiding the problem of slowly filling intercooler and intake pipework with oil. The Engine Breather Plate included in the kit also protects your engine by helping to eradicate oil starvation in very high G braking – an issue when used on track, leading to several engine failures in Racingline Performance UK's testing experience
CONFIRMED APPLICATIONS

VW Golf 7 & 7.5 GTI & Clubsport 2013-2020
VW Golf 7 & 7.5 R 2013-2020
VW Golf 7 & 7.5 1.8 TSI 2013-2020
VW Passat 2.0 TSI B8 2015+
VW Arteon 2.0 TSI 2017+
VW T-Roc R 2.0 TSI 2019+
VW Tiguan II 2.0 TSI 2016+
VW Jetta VII GLI 2018+
Audi S3 8V 2013-2020 
Audi A3 2.0 TSI / 1.8 TSI 8V 2013-2020 
Audi TT 3 2.0 TSI 8S 2014+
Audi TTS 3 2.0 TSI 8S 2015+ 
Audi SQ2 2018+ 
SEAT Leon III Cupra 5F 2014-2020
SEAT Leon III 1.8 TSI 5F 2014-2020 
Cupra Ateca 2018+
Skoda Octavia III vRS 2.0 TSI 5E 2014-2020
Skoda Superb III 1.8 / 2.0 TSI 3V 2015+


Own a Golf 7R or Audi S3 8V?
​Golf 7R and some early Audi S3 models have a different windscreen washer bottle fitment to the other MQB cars.  The reservoir is located on the right of the vehicle - which is where your new Catch Can will be mounted. So our Remote Washer Refill kit must be fitted as well.