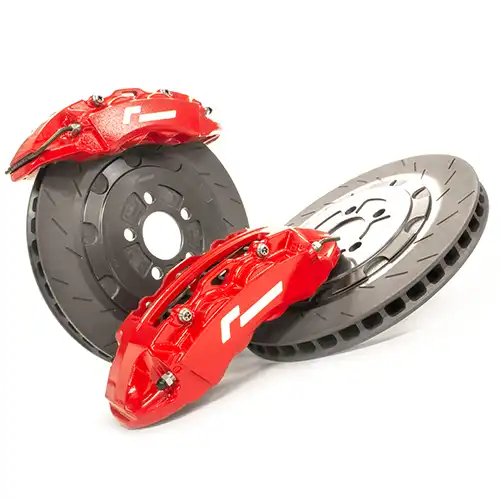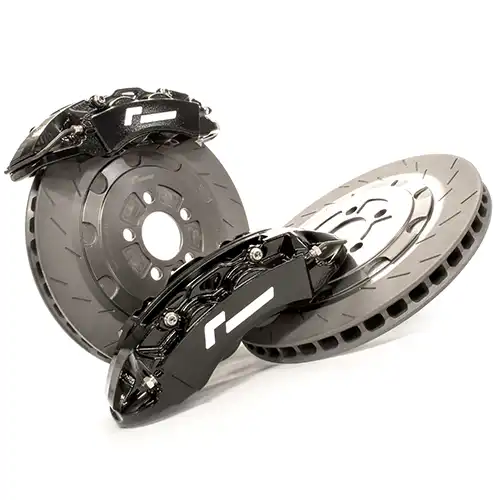 Stage 2 'EVO' Polo (6R/6C), S1 (8X), Ibiza (6J) Monoblock Performance Brake Kit
Racingline Stage 2 'EVO' Polo (6R/6C), S1 (8X), Ibiza (6J) Monoblock Performance Brake Kit
Our new Stage 2 'EVO' Performance Brake upgrade is now revised with stunning, larger 4-piston calipers housing a bigger pad size (it's the same pad as a Ferrari F40!). Bringing a real sportscar look and feel in the braking department for demanding fast road use – all at an affordable price.
All the power in the world is next to useless if your stock brakes aren't up to it. Our new Stage 2 'EVO' Monoblock Performance Brake Upgrade is an ultra-durable braking solution developed exclusively for fast-road and occasional-track VWG cars.
We've developed these brakes for street use from our decades of motorsport experience, and, as you'd expect, they provide outstanding stopping power again and again. Yet all at an affordable price.
Our lightweight Monoblock one-piece construction is usually reserved for the highest-specification motorsport kits, being vastly stiffer and lighter than the original calipers.
The kit comes in at almost half the weight of the original for significant unsprung mass savings. The caliper, pads and bracket assembly weigh in at 4.4kg (9.7lb) vs 8.6kg (18.9lb) for the factory Golf 7R kit.
A bigger, 345mm x 30mm 'triple-grove' single-piece disc (rotor) provides greater heat capacity, thus reducing the effect of fade.
The larger pad size is now the exactly same pad as a Ferrari F40 uses! And now being a generic pad-size, you can choose any brand, any pad-spec when it comes to replacement.
Our extensive development programme on piston sizes gives beautiful progressive pedal feel – and that's because (unlike many) we only develop brakes for VWG cars.
Included in the kit
Monoblock Brake Caliper pair [GTI Red (VWR652001-RED) or Black (VWR652001-RED)]
Caliper Mounting Bracket pair
Full bolt mounting kit
Braided Steel Brake Line Set
Sport Brake Pad Set
Triple Groove Brake disc pair
330mm x 30mm
Weight Saving Properties
Saving unsprung weight is really important on a performance car.
So we've spend a lot of our development and design time making sure that our 'EVO' Performance Brake Kit cuts as much weight out as possible. Our Monoblock Aluminium construction is the key to this saving – as this single piece caliper is stronger & stiffer it can therefore be lighter than equivalent 2-piece calipers.
Confirmed Fitment
> VW Polo Mk5 GTI (6R/6C) 2010-2017
> Audi S1 (8X) 2014+
> SEAT Ibiza (6J) 2015-2018