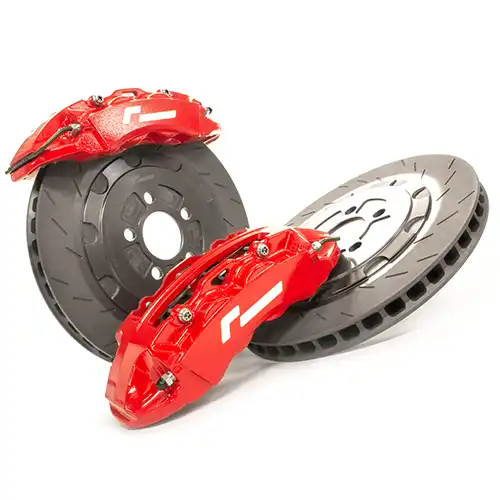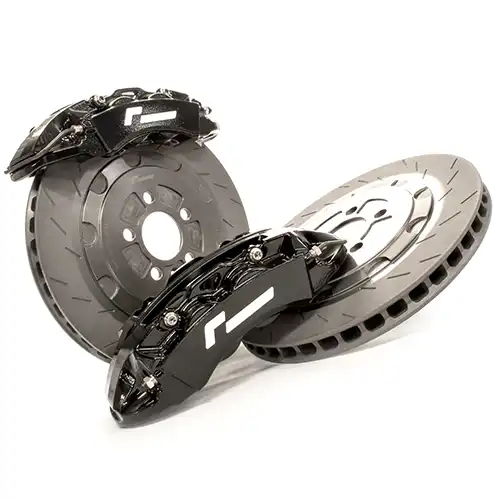 Stage 2 'EVO' Golf 5/6, Scirocco, Mk2 Cupra Monoblock Performance Brake Kit
Racingline Stage 2 'EVO' Golf 5/6, Scirocco, Mk2 Cupra Monoblock Performance Brake Kit
Our new Stage 2 'EVO' Performance Brake upgrade is now revised with stunning, larger 4-piston calipers housing a bigger pad size (it's the same pad as a Ferrari F40!). Bringing a real sportscar look and feel in the braking department for demanding fast road use – all at an affordable price.
All the power in the world is next to useless if your stock brakes aren't up to it. Our new Stage 2 'EVO' Monoblock Performance Brake Upgrade is an ultra-durable braking solution developed exclusively for fast-road and occasional-track VWG cars.
Technical details
Fully-Floating Disc
Heat treated FC-25 two-piece Steel Carbon Rotors
355mm rotors (18" wheels)
380mm rotors (19" wheels)
Sprung floating hardware for near silent running
Vented 'Triple Groove' discs with break-in-surface as standard
Fast road – Pad supplied with factory pad wear sensor
AP pad shape for multiple pad options
Goodridge ISO, TUV DOT and ADR approved lines
Racingline's hub adaptor system
What do you get?
Monoblock Brake Caliper pair [GTI Red (VWR652003-RED) or Black (VWR652003-BLK)
Caliper Mounting Bracket pair
Full bolt mounting kit
Braided Steel Brake Line Set
Sport Brake Pad Set
Triple Groove Brake disc pair
345mm x 30mm
CONFIRMED APPLICATIONS
VW Golf 5 GTI 2005-2008
VW Golf 5 R32 2005-2008
VW Golf 5 GTI ED30/Pirelli 2006-2007
VW Golf 6 GTI 2009-2014
VW Golf 6 R 2009-2014
VW Scirocco R 2009-2017
VW Jetta/GLI 5 2005-2011
VW Jetta/GLI 6 2011-2018

Audi S3 8P 2006-2012
Audi A3 8P 2003-2012

SEAT Leon II Cupra/R 1P 2006-2012
SEAT Leon II 1P 2005-2012

Skoda Octavia II RS 1Z 2004-2013