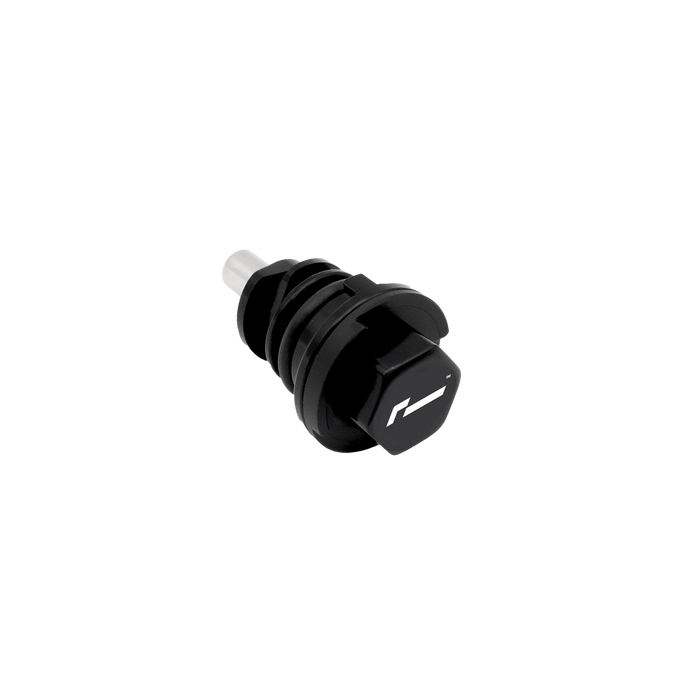 Racingline Magnetic Drain Plug for EA888 Gen.3 Engines (with Plastic Oil Sump)
VWR Racingline Magnetic Drain Plug for EA888 Gen.3 Engines (with Plastic Oil Sump) – VWR180004
Racingline's Magnetic Oil Sump Drain Plug is now available for the 1.8 & 2.0 TSI EA888 gen3 and 2.0 TSI gen3B engines. These engines use a plastic oil pan, meaning that normal metal, screw-in sump plugs simply can't be used. Our new 'True-Lock' fitting system means that, at last, you can protect your engine.
By attracting and separating out the minute abrasive and ferrous metal particles that are carried by the oil, it prevents them from circulating throughout your engine's lubrication systems.
The harder your engine works, the greater the risk of nasty metallic debris, the greater the benefit of using a magnetic sump plug.
Our unique 'True-Lock' fitting works with a simple quarter-turn to install the plug, then a PolyCarbonate locking ring ensures that it stays tight and sealed at all times.
It's a lifetime-use plug – simply replace the O-ring at each service. Install couldn't be simpler – insist on our new Magnetic Billet Sump Plug with your next oil-change and simply screw it in!
2.0 TSI & 1.8 TSI / EA888 Gen 3 engines
2.0 TSI / EA888 Gen 3B engines
Notes: For plastic engine oil sumps only.
CONFIRMED APPLICATIONS
VW Golf 8 R 2020+
VW Golf 7 & 7.5 R 2013-2020
VW Passat 2.0 BiTDI 4Motion B8 2015+
VW Arteon 2.0 BiTDI 4Motion 2017+
VW T-Roc R 2.0 TSI 2019+
VW Tiguan II 2.0 BiTDI 2016+
VW Tiguan II 2.0 TSI 190hp 2018+
VW Golf 5 R32 2005-2008
VW Golf 6 R 2009-2014
Audi S1 2.0 TSI 2015-2018
Audi S3 8Y 2020+
Audi S3 8V 2013-2020
Audi RS3 2.5 TSI 8V evo 2017-2020
Audi TT 3 2.0 TSI 8S 2014+
Audi TTS 3 2.0 TSI 8S 2015+
Audi TTRS 3 2.5 TSI 8S 2017+
Audi SQ2 2018+
Audi RSQ3 F3 2019+
Audi S3 8P 2006-2012
Audi TTS II 8J 2008-2014
Audi TTRS II 8J 2009-2014
SEAT Ateca Cupra 2018+
SEAT Tarraco 2.0 TSI 190hp 2018+
Skoda Superb III 2.0 TDI 3V 2015-2020
Skoda Kodiaq vRS 2018+