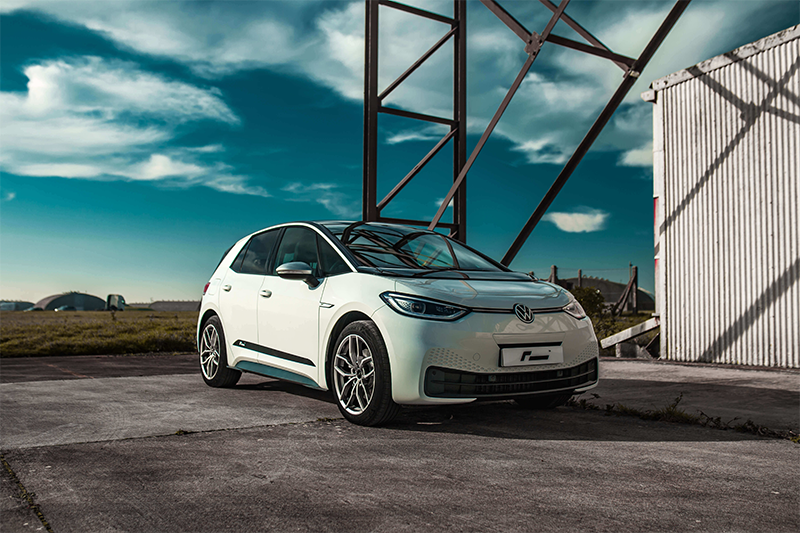 ID.3 - THE FUTURE?
Welcome to the future.
Like it or not, Volkswagen's ID.3 is a very, very significant car, and one that we had to get our hands on just as quickly as we could. Because, before long, there'll be a whole range of all-electric IDs on our roads built off this same 'MEB' platform. It's time for us enthusiasts to get used the idea of what our motoring future is going to look like.
A lot of you have asked. So here are our first thoughts. And overall, there's plenty to be positive about.
It's an interesting-looking car in real life. It's neither pretty, nor sporty, that's for sure. But it's modern, and unlike anything else on the road. It's bigger and more slabby than it looks in pictures – halfway between a Golf and Tiguan in height and width. This tall design packages the battery downstairs under the floor, with the passengers sitting above. The wheelbase is long and the overhangs short; because the motor sits out back driving the rear wheels, that stubby front doesn't have to accommodate any oily mechanicals.
Up on our ramp, it's very clear that this MEB is a totally new, bespoke electric car-only platform. It's a completely flat floor, front to back. The battery pack is the size of the full cabin above it, forming most of the flat floor underneath. Out back, shielded by smooth plastic guards sits the motor and its rear driveshafts.
Up front, you can't help noticing the large void hidden by more plastic, plus the blanked off driveshaft holes in the front hubs. No question, the ID.3 is ready and waiting for a twin-motor setup. Speaking with the top dogs at Volkswagen's R division recently, this is where an 'ID3 R', VW's first electric hot hatch, will surely fit in.
But for now we have to make do with this one. Our car uses a 58kWh battery, driving just that rear-mounted electric motor providing a reasonable 201bhp and 184lb ft. Let's not forget, that's more than you got from a Mk5 Golf GTI.